PayPal Order Forms
PayPal forms help streamline payments in your merchant account much easier than using shopping carts. That's because a shopping cart cannot be used everywhere online, while an order form with PayPal integration can. And you can start creating your order forms with 123FormBuilder that comes with a built-in PayPal integration. So, if you need to process orders or registration fees in PayPal, 123FormBuilder has the solution you need. No shopping carts needed, no programming.
Create a PayPal order form
PayPal forms are simple e-commerce solutions that businesses with web presence use to sell online.
Increase your average order value with PayPal forms that you can customize and control within a user-friendly PayPal form builder. Design your order form with simple drag-and-drop, engage your customers with custom messages, and build your customer base. Even more, you can activate recurring billing cycles on submit or accept payments as donations.
Advanced PayPal Order Form Generator
If you want to create online registration forms with PayPal or any other HTML form, here's what 123FormBuilder provides:
Intuitive drag & drop editor with advanced fields (upload, address)
White label option & domain aliasing
Advanced payment calculations
Coupon codes, discounts & markups
Recurring option for billing cycles
Email order confirmation messages
PayPal payment form HTML code, Javascript embed or popup publishing option
PayPal Forms with Multiple Checkout Options
Do you want to offer multiple options on the checkout form? Then 123FormBuilder is the PayPal order form generator that you are looking for. It provides many payment gateways to choose from, including PayPal, PayPal Pro, and PayPal Payflow. Moreover, you can use multiple gateways on the same PayPal form. This way, your customers will be able to select their preferred payment method. It can increase your conversions, it can grow your revenue.
To collect payments in your PayPal account through form submissions, you'll need a Platinum plan or higher on 123FormBuilder. For only $45 per month, you can process each month up to 20,000 orders. Check out our pricing page for more info.
Custom PayPal Forms with Calculation Fields
Create PayPal forms that calculate markups and discounts per item or the total amount. With 123FormBuilder, you are in full control of the items and services you are selling. And, if you need coupon codes, you can generate them within our PayPal form builder.
PayPal forms, from eShops to more
You can create and use custom PayPal forms on 123FormBuilder in any business scenario where payments are involved. That's because they are easier to customize, to maintain, and to collect money with. And here are just to name a few:
Sell products on your e-commerce website.
Collect donations for a fundraising campaign.
Sell tickets online for an event (conference, workshop, concert).
Collect subscription-based membership fees.
All PayPal forms built with 123FormBuilder are SSL secure over a 256-bit connection. Additional security options include country filters, CAPTCHA, and data encryption (for your order data).
Ready-to-use PayPal payment form templates
Select the type of PayPal registration form you need for your business below or have a look through our complete list of payment form templates.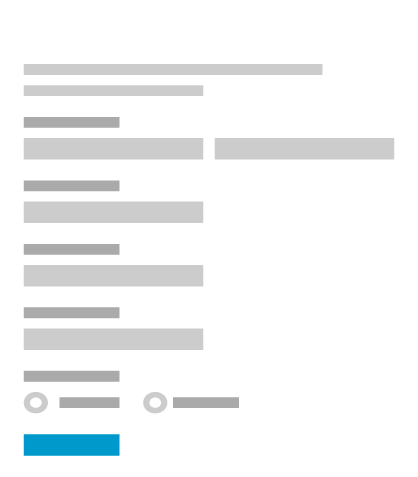 Create your PayPal order form within minutes.
Sign-up takes less than 60 seconds.